When it comes to high-quality journalism, there aren't many publications matching the level of New York Times. And as the newspaper of New York City, Baltic Sotheby's International Realty has no greater honour to showcase impressive Baltic properties to one of the most influential cities in the world. Also a great feature- to adorn the whole cover of Sotheby's International Realty ad with our beautiful Lithuanian Curonian Lagoon Villa.
Below, we are sharing a bit more about every Baltic property that was featured in the world renowned New York Times:
1. The Cover Property- Curonian Lagoon Villa in Lithuania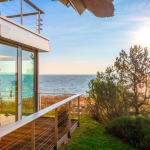 A unique villa on a spacious 60 ares' land plot which has been groomed down to the smallest detail is offered for sale. A residence in Pervalka on the coast of the Curonian Lagoon is incorporated into the natural landscape and is a perfect example of ageless architecture.
Discover more HERE
2. Impeccable Staelenhof Manor in Estonia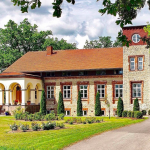 On the bank of River Pärnu, lies one of the most exclusive private estate's in Estonia, the Staelenhof Manor. The Neo-Renaissance building was originally constructed in 1852, impeccably renovated in 2015, and now offers more than 837 square meters of marvellous living space and more than 7 hectares of ancient manor lands.
Discover more HERE
3. Grand Riga Old Town Condo on Three Levels in Latvia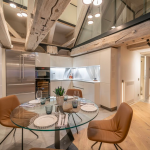 Located in Riga Old Town's Architectual monument, Vilhelma Nami, this apartment on three levels is meticulously hand-crafted modern and comfortable for people who value true quality and luxury. For the comfort of the future residents, the residential complex offers its own SPA and a functional gym. There is also a small courtyard that is closed to prying eyes from all sides, overlooking the Anglican Church.
Discover more HERE
4. Sophisticated Seaside Residence in Jurmala, Latvia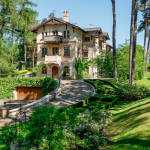 This sophisticated residence is located on the shores of the Baltic Sea and in the most beautiful spa town in the Baltic States – Jurmala. The three-storey home is in a quiet location and alongside a park of pine trees. The house has 1100 m2 of floor space and offers unforgettable views of the sea and surrounding territory.
Discover more HERE
5. 19th Century Vihterpalu Manor in Estonia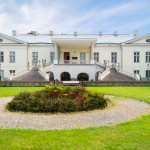 First mentioned in 1586, Vihterpalu manor's majestic late Classicist main house dates back to the 1820s, when it belonged to noble Baltic German family, von Knorrings. Being one of the most beautifully renovated manors in Estonia, Vihterpalu boasts majestic two-storey classicist main building, featuring a bright front facade adorned with three triangular frontispieces and a grand double staircase.
Discover more HERE 
6. Exquisite Architectural Wonder in Vilnius, Lithuania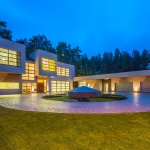 Graceful, luxury house on Kiškiu Street, Vilnius overwhelms you with elegance and impeccable quality once you step over the threshold of the building. This perfect combination is harmoniously complemented with the soughing pines, the feeling of calmness, safety and privacy because the location of the house is, perhaps, the most private in the territory of Valakampiai.
Discover more HERE